March 25th – 9 Square / 4 Square Night at the American-Czech Educational Center
Saturday April 1, 2023 – EGG HUNT at Sokol Camp 7 PM
Get your tickets HERE: https://www.eventbrite.com/e/adult-easter-eggstravaganza-at-sokol-camp-2023-tickets-529962240327
Saturday April 15, 2023 – Czech Festival at the American-Czech Educational Center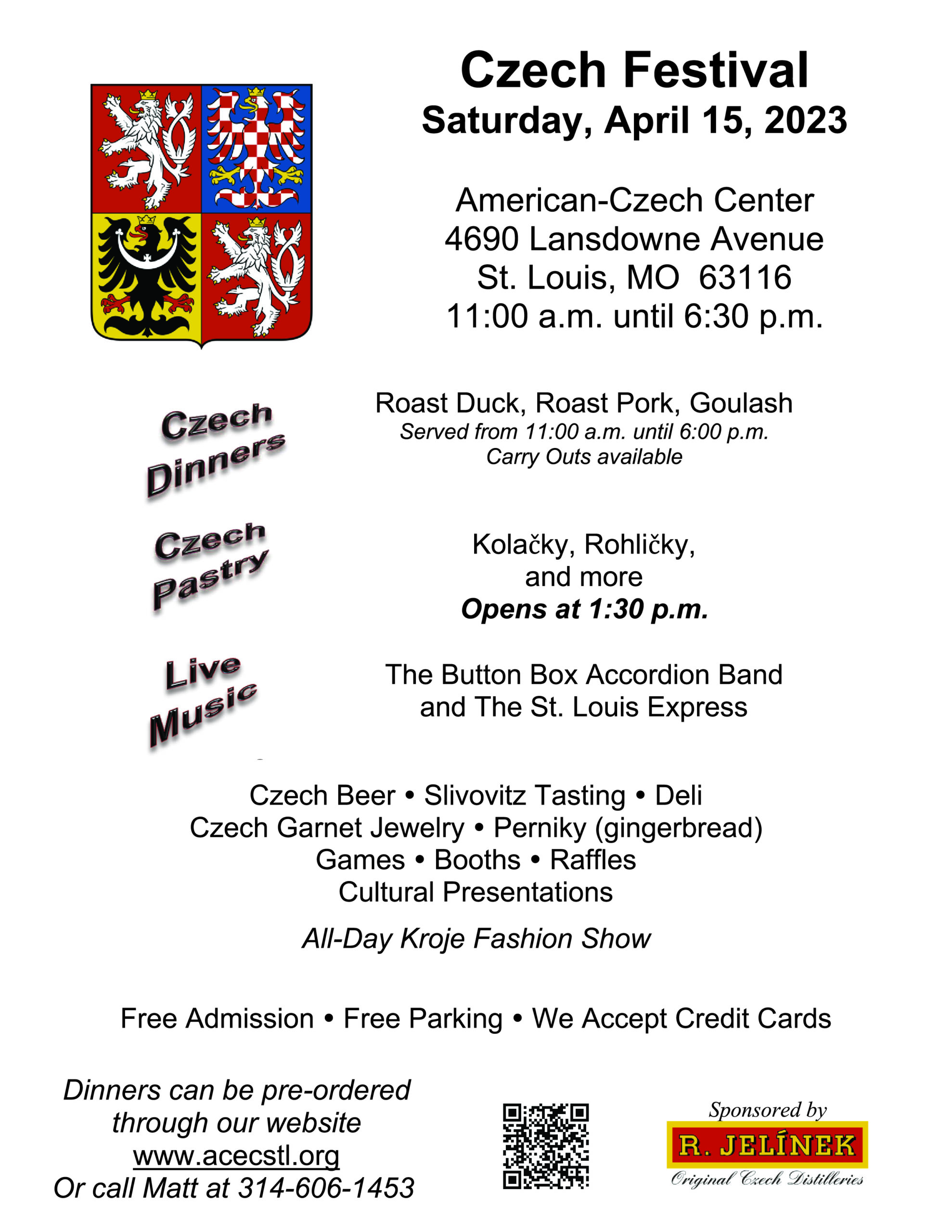 We look forward to hosting our traditional Czech Festival this Spring!
We will have a Czech Kroje Fashion Show, Egg Decorating Demonstration, your favorite baked goods from Babi's Bakery, Czech Boutique and Jewelry, Tshirts, Czech Deli, Live Music, Czech Cultural Presentations, Imported Beer and Spirits and more!
Pre-Order your Dinner to guarantee your meal choice! Day of Dinners are first-come first-served!
Choice of Quarter Roast Duck
Roast Pork Loin Slices
Czech Goulash (Beef)

Dinner Entrees served with choice of 2 sides: Czech Dumplings (yeast); Vegetable Medley; Czech Sauerkraut; Czech Dessert
Mashed Potatoes may be substituted for Czech Dumplings

Dinners may be pre-ordered/pre-paid through Event-Brite (Service Fee and Sales Tax apply – CLICK HERE)
Dinners may be pre-ordered / pre-paid by calling Matt Stasa at 314-606-1453 (phone/text)
Don't forget to contact us to order your tickets for the VELKY RAFFLE and your chance at winning BIG PRIZES!
Saturday May 12th – Meat Bingo at Sokol Camp
Friday May 19th – Spaghetti Dinner at ACEC – 6PM – 8PM